Test your skill and enrich your vocabulary with word games
School days are over, two months of school break has begun.  We as parents want our children to keep themselves busy as we enroll and let them join summer camps and workshops to keep their mobility and to develop and harness their talents as well.  However, we also have to make sure that not only their physical body would move but to keep those minds working too. After their 1-2 hours session in a summer clinic, they will get back home and most often than not after eating the delectable food you prepare they will watch the television or will turn their computer on and play. We can help them enrich their vocabulary without giving them much pressure through reading good books or encourage them to play word games.
Board games like scrabble can keep them occupied especially when it's raining outside.  Nevertheless, 2 or more players are needed to play a board game and as a busy mom tending to other house chores we cannot sit and play with them anytime. As most people from all ages nowadays are into Facebook, more and more game applications were incorporated to it to entertain people. Aside from cooking, baking and virtual farming applications, more educational games come up like Letter UP, a crossword game in which 2 to 4 players score points by forming words from lettered tiles on a 15 by 15 square grid. You and your children can join the game at the same time and what can be more exciting is you can play the word game with your friends and other people around the globe.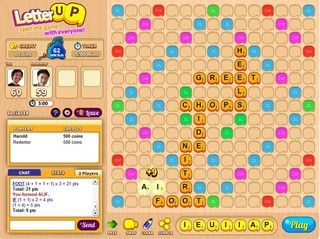 These educational word games can test one's knowledge and skills in building words from the given letters horizontally or vertically.  It is also challenging and full of fun as in order to win the game the player needs to score the most points. Play for fun, make idle time worthwhile and at the same time educate and enrich not only your children's vocabulary but yours as well 🙂