Many businesses and business professionals nowadays rely heavily on Internet and technology. Familiarity with useful software and the ability to adopt new tech resources can be crucial in how one performs at work.
Among tools that save time, improve work productivity and are accessible to users of all computer skill levels are PDF converters. We'll see how a PDF converter can help your work on an example of one of the best PDF software on the market.
Able2Extract PDF Converter allows users to convert PDF, HTML and Text source formats into various editable documents. The tool is by far exploited for its PDF conversion services and we'll see how people in very different areas of work can benefit from the software.
PDF to Excel for Accountants, Auditors, Bankers, Lawyers…
Able2Extract is the most popular for its advanced PDF to Excel conversion features. Business professionals who work with complex data that they need to organize into spreadsheets welcome the idea of converting PDF documentation into editable tables. This option saves them tremendous amount of time that they would otherwise spend manually extracting information from important archived documents into new editable files.
Most PDF to Excel converters only offer users the option of converting a PDF spreadsheet into an Excel table. Able2Extract, however, allows users to customize their tables and preview their output file prior to making the conversion. In other words, users can tweak the spreadsheet's layout, add or remove columns and rows and edit header and footer until they are happy with the final result.
PDF to Word for Writers, Editors, Librarians…
Able2Extract is quite useful to writers, editors, librarians, people looking for a job and sending out resumes and many others. We can see the tool's usefulness in an example of an editor who receives book manuscripts in PDF format, which is a frequent scenario. In order to assess the writer's effort and talent, the editor needs to make remarks in the document itself, which is often quite difficult in a PDF file. Able2Extract allows the editor to quickly convert the PDF manuscript into an editable Word file and make all the necessary corrections and notes to a writer.
PDF to Publisher for Office Managers, PR Specialists, Project Managers…
There are many job positions that require some type of organization, like planning a seminar for a large number of people who need to be invited, or working on a PR campaign that involves creating a lot of marketing materials. Most offices keep their useful business information in their PDF archives, so office, PR and project managers will save a lot of their time and effort using a PDF to Publisher converter to create professional looking invitations, newsletters, brochures, etc. from their archived office material.
PDF to PowerPoint for Presenters, Educators, Speakers, Students…
PowerPoint presentations are quite a persuasion tool. Students use them regularly to get a good grade, as do presenters to convince their clients of entering a deal with their company. Since creating presentations from scratch is very time-consuming, PDF to PowerPoint converter comes handy in turning PDF text and images into visually appealing PowerPoint slideshows.
PDF to Images for Designers, Photographers, Bloggers…
Regardless of one's photo editing skills, Able2Extract allows all users to easily customize their images using the PDF to Images option. The Professional version of the software also uses OCR technology, which is especially handy to people who like digitizing their printed photos and embedding them on their web pages. Users can convert native or scanned PDF images into any of the five most popular image formats: JPEG, BMP, TIFF, GIF and PNG. Both Standard and Professional versions of Able2Extract also have numerous image customization options, allowing users to turn their photos into black and white pics, create HTML galleries, make GIF animations, etc.
Another important aspect of Able2Extract PDF Converter is that it provides a "Select Area" option, which means that users don't need to convert the whole PDF document; they can extract only parts that they need for their presentation, report, newsletter, etc.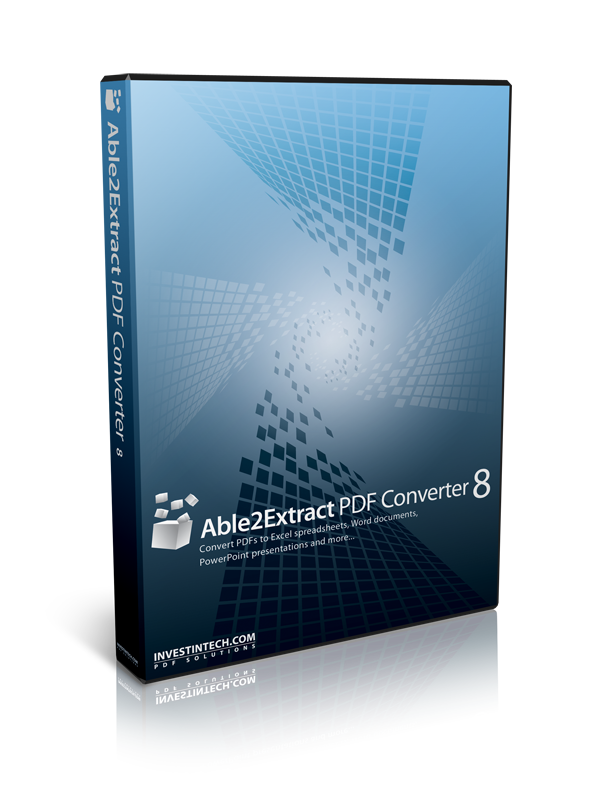 Interested users can download a free 7-day version of the software and see how Able2Extract improves their work performance.