Browsed websites together with download histories are typically saved and recorded in most browsers. Browsing back a certain webpage is effortless as you only have to type at least two characters on the address bar and then you're ready to look through it again. However, there are times when you want to browse in private especially when you use a different computer which is not yours. If you are wondering if private browsing is possible? Yes it is via the incognito browsing mode offered by Google Chrome.
By using this stealth mode feature you can check your emails and freely login to your other password protected accounts without worries. Through incognito surfing, opened webpages as well as files downloaded are not recorded in your browsing histories as all new cookies are deleted after closing the opened incognito window. 
Here's how to open an incognito window.
Click on the Google Chrome menu on the browser toolbar found on the upper right corner.
Click on New incognito window or you may use keyboard shortcuts – Ctrl+Shift+N for Chrome OS, Windows and Linux while for Mac users, the keyboard shortcut is ?-Shift-N
A new window will open with the incognito icon on the upper left corner.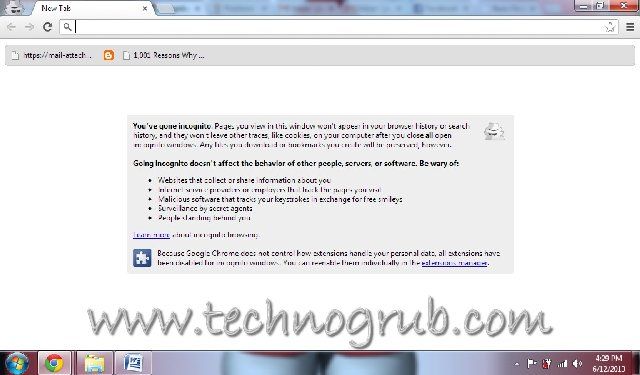 You are now ready to browse in stealth mode and may switch browsing between windows.
Additionally, for those using Chrome OS, its guest browsing feature serves as an alternative to incognito mode. You may browse the web normally as a guest and all browsing details will be completely erased once you exit your guest session.
Remember that incognito browsing mode only prevents Google Chrome from storing or saving the details about the sites you've visited but it is possible that you have visit records on the these websites you visited.
Are you now ready to try private browsing? Go incognito 🙂