MS Outlook being used worldwide has a downside of not having efficient inbuilt utilities to handle the internal issues. Its storage size limitations and issues related to this large size storage file are cumbersome to handle. The split PST software is an apt approach to solve this issue. It has been designed to cut the PST file and divide its data into two or more PST files as per users' choice. This mechanism ultimately solves the issue of data management and MS Outlook slow performance.
Split PST version 4.2is under scrutiny in this review and I'll illustrate about its working procedure along with the advantages and disadvantages of the software. Software is available for download and comes as a demo version as well, which can be executed prior investment on full version. Let's see how it works;
Step 1: Initiate this software by double-clickingthe downloaded .exe file of software. As the software is run it will be launched and then you can follow the steps.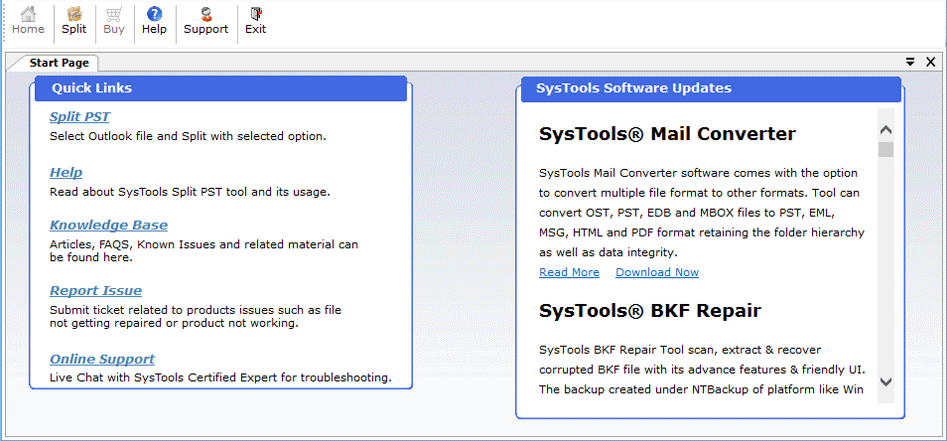 Step 2: Main Menu will show up many options for the splitting of the PST file. The very first option available is choosing the type of PST file. The software supports both the ANSI and Unicode PST file and thus is capable to divide PST file belonging to all the MS Outlook versions from 2000 to 2013. You can choose Outlook Data file Format as per the version of MS Outlook PST file.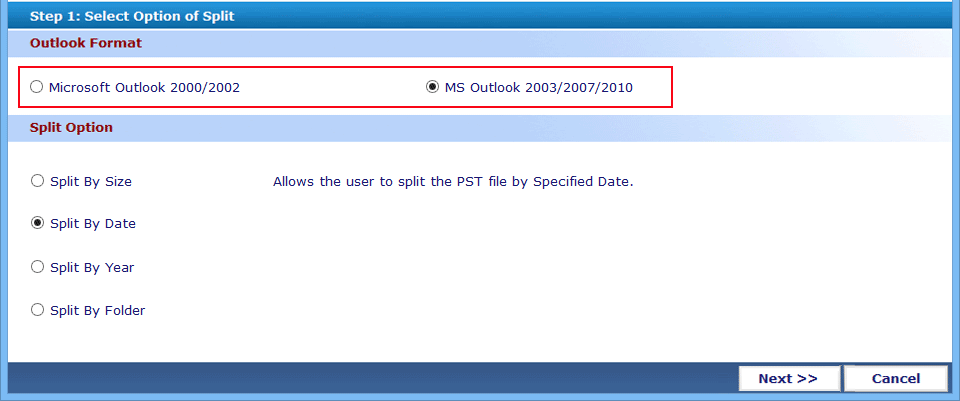 Step 3: Various Split options are available in this software and thus you can choose how to split PST file. These split options are;
By Size: Software is capable to split PST with respect to the size of the file. You have to predefine the size after which you want to split the PST file. For e.g. if your PST file size is 8 GB then you can divide it into four PST files with each PST file with 2 GB data. This option is helpful if our need is strictly to manage the data.
By Date: This option is helpful if your need is to divide PST data according to date. For e.g. if you want to divide your work or mails as per particular date due to job changeover or project change over, then you can choose this option and split PST. The result will be the creation of two PST files. One containing data prior the date you provided and other with the rest of the email data.
By Year: Providing years after choosing this option will result in the creation of two PST files separately with the data belonging to these years. Such year wise division might not be needed by every user, but for some users it can help a lot to manage data according to years.
By Folder: This is very interesting and helpful PST divider option as the data is split folder-wise. MS Outlook Inbox items are most important for any user and this division option can help users to separate out these PST file when certain folder exceeds the size provided by you. This controls the size of folders and helps in better email data management.
Step 4: As soon as you click on the next option after provide the Outlook format and a split option, another window will open to add the PST file. Different split options have different sub-options where you have to provide the dates, years, size, as per the split-option you have chosen.
Step 5: Go to Browse option and then add the PST file. Provide other data requirements as mentioned in Step 4. And then select the destination folder where you need to save the resultant PST files. After providing all the details, click Next.
Step 6: Detailed information about the Split operation is shown on the display where you can find information like destination path, current PST, PST size, Source PST path, etc. You can cross check it and if you think that any detail is incorrect then you can also click on Previous option and change the input details. Once done, click Split.
Step 7: A message will be shown once the splitting process is done. Click OK on it.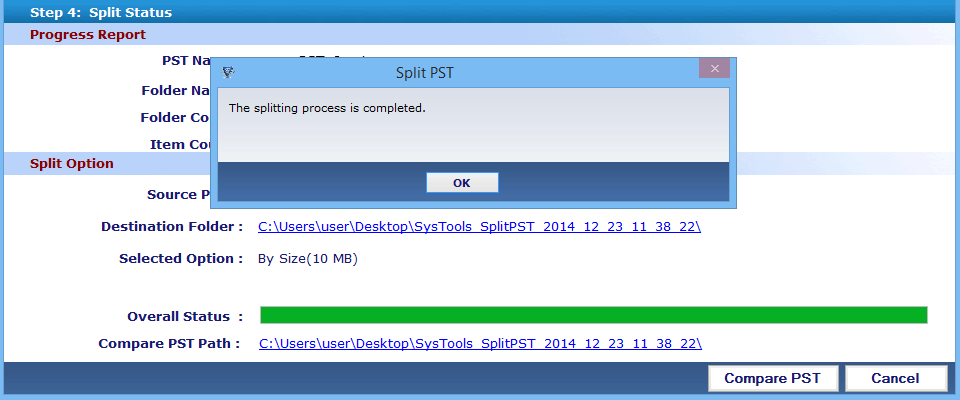 Note: In case your PST file is password protected, it will prompt for the password. Put the password applied for the PST and proceed with the steps. In case PST file has no password applied, it will not prompt for any password.
Conclusion
Many organizations have MS Outlook application as email client in their workplace for internal as well as external email exchange. Insertion of innumerable emails, attachments, contacts ultimately bulges the size of PST file. For such users, this Outlook File Splitter is a prominent solution to get rid of slow emailing platform. One can easily Split Outlook DataFile and improve the performance of Outlook letting users access and manage email data in a better way by checking the size of storage file.
Availability of various splitting options, compatibility towards all types of PST files, helping interface, splitting all type of data items, and a very reasonable price tag makes this software a users' choice tool. MS Outlook application must be installed in the system where this tool is going to be run. System with any Windows version and any MS Outlook version will work and thus there are no compatibility issues. Software is strictly for MS Outlook PST file and will not work for any other file format.
Unfortunately this software is not for PST files which have been damaged or have accessibility issues. It will only read data from a healthy PST file and divide it to multiple PST files. There is no harm done on the original file as data is only read from it and extracted to the other PST files. Resultant PST files also do not have any data mismanagement issues and all the data are safely divided.
Overall this Split PST software is a very promising and authentic solution, and deserves 4.8/5 rating!